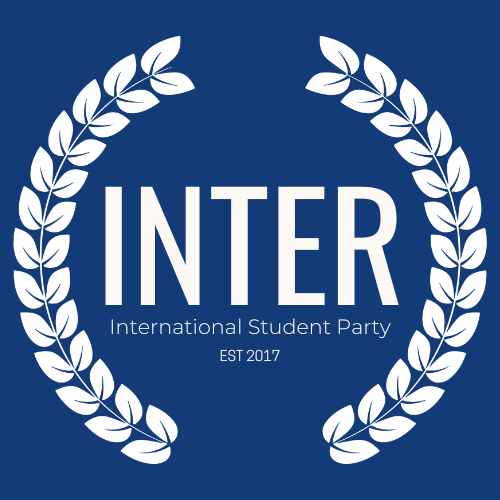 Inter
We are a student party at the University of Amsterdam working to increase transparency in decision-making at the institution and improve your student experience. We are diverse, curious, ambitious, and determined to bring these values to university politics. We believe in more student involvement in university politics to create a more interconnected, interactive university. We strive to close the gap between university governance and the student community through direct and transparent democracy. We aim for solutions benefiting all students at the University of Amsterdam. Five goals of Inter are: transparent and democratic decision-making, quality of education and academic flexibility, diversification of backgrounds of the student body, improved student welfare and sustainable policies and practices.
Click on any motion below to see the parties explination
---
Diversity quota and registration of ethnicity should be part of the Diversity policy of the UvA
Neutral
---
Vegan or vegetarian food - with optional meat options - should be the standard in the canteen, so the University can lead the example in terms of sustainability.
Agree
The option of meat is still available, but we think it is important that we take big steps to be more sustainable.
---
Student parties that receive any kind of support from external parties, such as national political parties or companies, should be excluded from participating in the student council elections.
Agree
We think that parties that have external funding have an unfair advantage during the elections and during the year as they can get more promotion and invest more than normal student parties.
---
The Rector Magnificus and deans must be (directly) elected by students and staff.
Neutral
On the one hand, it is good that Rector Magnificus and deans are elected by everyone because it would be somebody known and liked by people. On the other hand, the central organs of UvA know better who is qualified for such an important position. 
---
Students and researchers must be able to conduct research on everything, even if it is against current values ​​and norms.
Agree
We need to make sure that research is conducted in an ethical manner, and thus overseen by the ethics board, but we should not allow prevailing values and norms to stand in the way of valuable research.
---
The Binding Study Advice (BSA) should be abolished.
Disagree
It can be lowered but only if a selection procedure is implemented well. We would rather see the university is more flexible in granting exceptions than lowering the BSA.
---
Members of a Programme Committee (a representative advisory body of the individual study programmes) should be elected by the group they represent.
Fully agree
One of our core values is democracy and we believe that this value is protected when Programme Committee members are chosen by the people they represent.
---
The University is internationalising too quickly.
Disagree
The university should prepare students for a society in which they will work, and since this society is becoming more and more international, it is important to get in touch with other cultures because everyone can learn from one another in that way.
---
Student psychologists should be available at each campus
Fully agree
---
The University must invest more in sustainability.
Fully agree
It is important that, as a university, we clearly show that we trust scientists and their projections about climate change and that we regard this as a serious issue. This includes taking measures to be more sustainable. 
---
Student parties that receive any kind of support from student associations should be excluded from participating in the student council elections.
Agree
---
The University must prioritize active diversification, including decolonisation, as mentioned in the 2016 Diversity Report.
Fully agree
It is important that diversity is present at university. The Diversity Report 2016 is a good initiative that deserves to get more attention, in order to, for example, ensure that also students who cannot afford to pay a lot of money still are able to study at UvA.
---
The examination of curricula goes hand in hand with decolonisation and should be prioritised within the Diversity approach of the UvA.
Fully agree
---
Decisions must be made as decentralised as possible.
Agree
It ensures that councils and other small (not central) entities have a say in the university decisions. Moreover, it shows that the UvA Board cares about democracy and the opinions of others.
---
The UvA must actively facilitate the transfer from HBO (university of applied sciences) to WO (academic university education).
Agree
Yes - The UvA should continue providing pre-Masters programmes for HBO graduates as well as the opportunity for students who have achieved their HBO-propedeuse to switch to a WO Bachelor programme.
---
Budget cuts should come at the expense of smaller educational programmes.
Fully disagree
A low student-teacher ratio is necessary for good quality of education.
---
Programmes should decide for themselves whether English will improve the quality of education.
Agree
They are themselves in the best position to make these decisions. However, it is important that the university promotes internationalisation by encouraging courses to teach classes in English.
---
Every student must be able to pay per study point at the UvA (flexible studying).
Agree
It is important that the university asks for money from students in an honest way. If you study for two months you should be able to pay for only those months, not a whole year, in order to make sure everyone has the opportunity to study. For some courses, though, this would not be beneficial to students, and so we stand against making it compulsory.
---
The University should provide its students more (aid with) housing
Fully agree
---
The University must take into account the holidays of all religions.
Agree
The recognition of celebrations from all religions is the least the university can do to show respect for diversity in our university. This does not mean that all lectures must be cancelled, but maybe that it can be used as an excuse to miss a tutorial. 
---
The amount of international students in a council, should be representative for the amount of international students within a faculty, or the University (same for Dutch students)
Fully disagree
---
All lectures should be available online, independently of the quarantine.
Fully agree
The university should help to explore the options with blended learning. The programmes should decide themselves whether it fits in their curriculum.
---
The Faculty of Social and Behavioural Sciences must split into smaller faculties.
Neutral
The faculty is big and could be split into smaller faculties, however, it would be hard to implement and could confuse current and prospective students as all concerned programmes fit into this particular faculty.
---
There should be no sanctions for absence from lectures and tutorials.
Disagree
The sanctions are necessary so that enough students are present to have relevant and interesting discussions about the information. However, we believe that the range of admissible excuses for missing a tutorial should be extended. 
---
Prioritizing efficiency in education leads to belittling of students and must therefore disappear.
Agree
It is important the quality of education remains high, but that means good performance and the well being of students: potentials fail to be maximized when enormous pressure is put upon students. 
---
Entry selection is detrimental to the accessibility of the university and should not take place.
Disagree
Entry selection can help with deciding who is determined enough to study at the UvA. Moreover, it shows which students have enough experience to be prepared to cope with the workload. However, entry selection should not be detrimental to people from different backgrounds, including economic differences.
---
More investment is needed in interdisciplinary education (providing students with more than just one perspective on a particular subject, such as honours, PPLE or IIS programmes)
Neutral
As Inter, we think that investment should be high in both interdisciplinary programmes and those that are not. All types of education require high quality. However, we are aware that sometimes those interdisciplinary are more costly and therefore require more financial help.
---
Political Diversity should also be included in the Diversity approach of the university
Agree
---
Study associations should be encouraged and financially supported by the University.
Agree
They should. Being part of a community, feeling safe and welcome and being happy in your surroundings at the UvA is important for every student. We believe student associations can help improve this, so the university should help them.
---
The University must invest more in improving the silent rooms.
Agree
While it is important for diversity and mental health to have a contemplation room on campus, we believe that they are not necessary in every building. Instead, the UvA should use the space for more study spots. We do want at least one contemplation room per campus.
---
The University should tailor curricula based on the needs of the labour market.
Agree
Most of the programmes offered should be able to provide a job after. However, if some programmes are interesting but offer fewer jobs, they should be still developed but on a smaller scale.
---
Money put into student participation by the University should be invested in free beer for students.
Disagree
We are very much against this. The purpose of a university is to educate students, and the funding should be allocated for that purpose. To have students' tuition go to beer, while some students cannot drink because of religious beliefs, is absurd.
---
Course coordinators must have the freedom to make decisions about education, such as the content of courses and examination.
Neutral
Even though we think it is important to trust the teachers, every student should receive equal treatment and this is impossible if some classes are for example at a higher level than others.
---
The UvA should invest more in supporting the mental health of students.
Fully agree
This is one of Inter's main points. Getting sufficient marks is necessary to make the university work, but it should not cause health problems and stress, and it is important the university pays close attention to whether or not that is happening.
---
Students wishing to take honours courses should be able to do so based on their motivation, regardless of their grades.
Disagree
First of all, we think that grades to a certain extent show how motivated the student is. This does not mean that the minimum grade to enter has to be very high. But to ensure the quality of education is maintained, it is important that the students who are admitted are hardworking enough to learn the syllabus well. Furthermore, it is important that students do not have huge discrepancies in their abilities.